Live denture free with fixed, permanent teeth in a day!
Stop using expensive denture paste and living with sore spots!
Start living better!
Permanent teeth allow you to eat what you want, have the confidence to smile again, look younger, speak more clearly, sing better and whistle louder.  And it can be fixed in a day!
You would live denture free!
It's not only possible, its affordable.
Eating is one of the great joys in life! And your loose denture has made it less enjoyable.  It has been years since you enjoyed your last steak or corn on the cob in Jacksonville.  You have had enough of all the denture pastes and adhesives you need for your denture.  You are afraid of your dentures coming out at the wrong time.  The answer to all these problems can be fixed in a day, with permanent teeth!
What Is The Process?
We evaluate your mouth with a 3D scan to confirm you are a candidate.
We non- surgically place mini implants.  All it takes is a little "Novocaine".  No other anesthesia is required.  And there is no "down time".  You can go right back to work or go enjoy the beach!
We then seat your new permanent teeth!
Enjoy your favorite meal!  That's it!
Dramatically improve your life in tomorrow!
Ready to get Started? Call Elite Smiles at 904.201.4304!
Still have questions? Keep reading!
What Is A Dental Implant?
A dental implant is an artificial tooth root.  The artificial root has a snap on top.  The denture has a corresponding snap.  Once placed the denture and dental implants snap together.
It can take as little as one hour, not months, to place all the implants and snap your denture into place. Not only is it quick, but its nearly painless.  You can then throw away the denture paste instantly and dine happily at your favorite restaurant the moment you walk out our doors.
Have you been told that you do not have enough room for dental implants? Or think you cannot afford them? New implants make it possible to place them in areas dentist could not before and they are now affordable!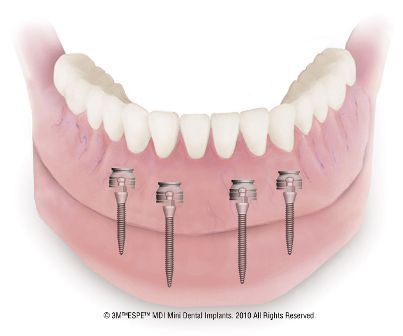 Can You Use My Current Denture?
Yes! We have the materials in the office to make your denture, a SNAP Denture.  And we can do it in about an hour.  It's that simple. Does this sound like a snap yet?
Am I A Candidate?
Yes! The science of dental implants is improving every day.  Thanks to this ever-improving technology, Elite Smiles can give dental implants to those who have been told they were not candidates either physically or financially.  New dental  implants can cost as much as 66% less than old dental implants.  By offering  variety of dental implants our implant dentist can almost assuredly find a dental implant solution for you.
Sounds Great, How Do I Get Started?
Reserve your time with us today by calling 904.201.4304.  We can sit down and discuss which implants are best for you.  Once we start we can have you leaving our dental office in Saint Augustine, Florida, with a stable denture in about an hour.  Don't wait another day to eat the foods you want or bother whether those pesky denture pastes.  Give us about an hour and we will change your life.  Come in today and we will have you out of here IN A SNAP!!